Welcome to the Final Fantasy Card Game Wiki
This wiki is dedicated to the new Final Fantasy Trading Card Game being released internationally in October 2016. Here you will find rules, gameplay details and card lists for the different products available.
About the Final Fantasy Trading Card Game
The Final Fantasy TCG was originally released in Japan in 2011 by Square Enix and was not released internationally. The game was re-released in North America and Europe in October 2016, then Japan in December 2016. The game released with one Booster Set 'Opus I Collection' and three Starter Sets: Final Fantasy VII Starter Set, Final Fantasy X Starter Set and Final Fantasy XIII Starter Set.
The original game and the new game are not compatible with each other due to new card effects and re-balancing.
To get started, have a read through the Rules, Card Sets and Series pages.
Booster Sets
Starter Sets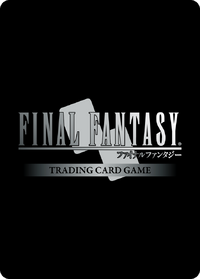 Useful Pages
External Links
Ad blocker interference detected!
Wikia is a free-to-use site that makes money from advertising. We have a modified experience for viewers using ad blockers

Wikia is not accessible if you've made further modifications. Remove the custom ad blocker rule(s) and the page will load as expected.