The Final Fantasy - Trading Card Game (FF-TCG) is a game where 2 players prepare a deck of cards prior to the game and employ cards during game play to build formations and attack each other. A space referred to as a "field" is setup in front of each sitting player on a desk or any flat surface and each player will place cards into the field. Both the introduction of cards into the field and their use during game play requires specific "costs" to be paid using cards under the control of the player. By paying these costs, the player will employ various tactics to attack or defend against each other. If a player cannot successfully defend (referred to as a "block") against an attack by their opponent, then the player loses 1 point. The purpose of the game is to make your opponent lose 7 points or force your opponent to deplete their deck of cards.
Tutorial Videos
Edit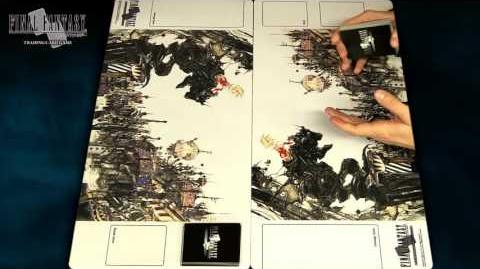 Rule section is a work in progress until comprehensive rules are made available. In the meantime, check out the initial rule document made available on the official site.
https://www.fftradingcardgame.com/page/how-to-play
Ad blocker interference detected!
Wikia is a free-to-use site that makes money from advertising. We have a modified experience for viewers using ad blockers

Wikia is not accessible if you've made further modifications. Remove the custom ad blocker rule(s) and the page will load as expected.